With warm-weather season in clear sight, we're starting to make plans for shifting from the sofa to the garden and what better way to do this than bring your sound system with you?

Enjoy your music outdoors with no compromises with the KEF Ventura all-weather speakers. Whether you're entertaining, firing up the BBQ, or lying by the pool, you can take your favourite summertime tracks with you and enjoy rich and high-precision sound.

Here's everything you need to know about our outdoor speakers, from how they work to where you can place them.
What do you need to consider when choosing your outdoor speakers?
One of the most important things to think of before you choose your system is the area you want to place them. Take note of the square footage of the area where you want to install your speakers. This is the key to help decide which model you need and how many to have for optimum sound coverage without any 'dead spots'.

Typically, the Ventura 5 works with smaller terrace, patio, or back garden area, and the Ventura 6 is best for larger patios, by the pool, and other wider areas.
Where to place outdoor speakers:
Once you've thought about the area and how many speakers you'll need, you can then look at where to position the speakers.

The ideal placement is to have your speakers up high and angled downward towards the listening area – whether that be a seating area, pool or patio.

Our Ventura speakers can also be positioned out wide and facing inward towards the listening area too. Both options will provide you with optimal sound so you can get lost in music.

Although our speakers are weatherproof, it's good practice to tuck them under eaves or angle them downward to prevent any moisture build-up. Aside from this, the Ventura are very robust speakers.

All Ventura speakers have a mounting bracket for wall or ceiling mounting. This allows the Ventura to be mounted vertically or horizontally and directed downwards, for example, via the swivel joint.
Are outdoor speakers weatherproof?
Being outdoors naturally raises questions around whether the weather can impact how they work. In our case, this isn't an issue.

Our Ventura Series outdoor models are weather-proof. They can flood your pool, garden, or yacht with high quality sound in a variety of atmospheric conditions. Having been tested in the most extreme weather environments: extreme heat and cold, beach environments, and humidity, they'll continue to bring you beautiful and pure sound for years to come. Both the Ventura 5 and Ventura 6 are weatherproof, IP65 certified, and salt spray tested - especially handy if you use them as yacht speakers.
What equipment do I need to set up the speakers?
Where you place your Ventura will determine the additional equipment needed. As we recommend placing them high up and raised for the best output to immerse yourself in sound outdoors, you will need secure wall brackets.

Luckily, the Ventura come with brackets which allow for both horizontal and vertical mounting so are versatile depending on how you choose to place and angle them.

The Ventura are passive speakers and therefore need to be driven by an amplifier. We would pair them with any integrated amplifier with a 'Speakers A+B' function. You can get in touch with your local dealer for any special equipment you may need.
How to setup Ventura speakers
Once you've got all the equipment in place, it's then time to set your speakers up and start to enjoy your music outdoors with a book or cocktail in hand.

With integrated 180 degree adjustable mounting brackets, installation couldn't be simpler! Simply slide the speaker into the bracket, rotate it to the desired listening angle, and tighten the knobs.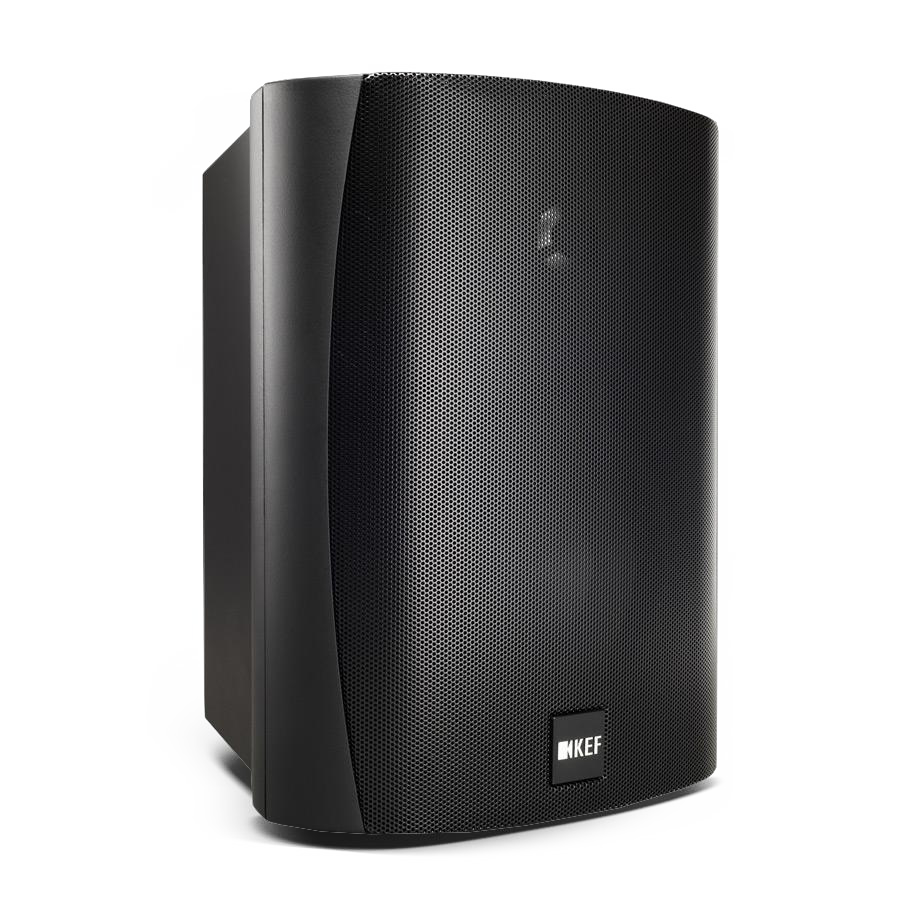 Ventura 5
Outdoor Speakers
€449
EXPLORE MORE
Ventura 6
Outdoor Speakers
€549
EXPLORE MORE